Services
We understand the value of people-centric, instructor-led learning.
Facilitated Learning Programs
Traditional classroom training programs, also known as instructor-led or facilitator-led programs (FLPs), have always been popular with organizations as an effective training delivery mode. Some companies prefer to retain this practice of using classroom training owing to its benefits such as face-to-face interactions and real-time discussions.
SKILLDOM—Facilitator Led Programs (FLPs)
Learning design and development is in our DNA. Our classroom training programs are people-centric. They have been created with a vision of bringing about a change to people's lives to impact organizational development in a positive way.
SKILLDOM works towards influencing people positively by inspiring them in their personal, social and professional environments to take on new values, beliefs and perceptions. We have built our training programs around the core concept of 'Experiential Learning' and look to work beyond the four walls of the classroom.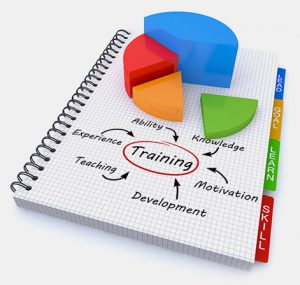 SKILLDOM's FLPs—Key Differentiators
Some of the key differentiators of our classroom programs are highlighted below.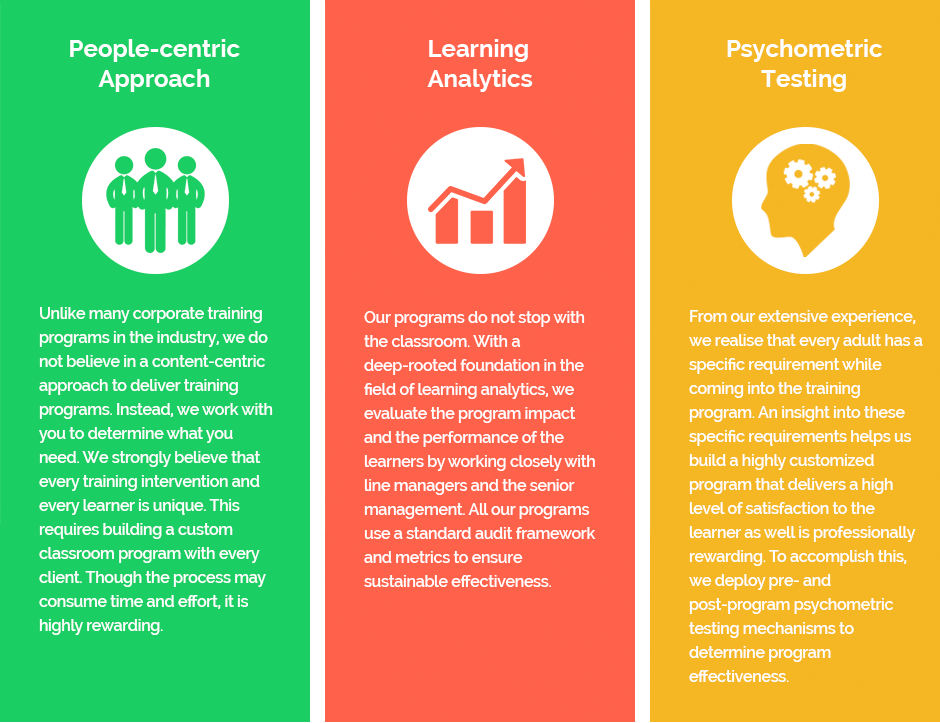 Below is a list of some of our popular FLP Programs. Enquire with us for a detailed program approach note and we shall customise your training needs.

The Art of Analysis
Analytical thinking skills are critical in the work place because they help you to gather information, articulate, visualize and solve complex problems.

Scenes from time to Come
This day on "Scenes from time to come" will offer you some radical and provocative insights into how to plan in a non-linear way… be prepared for some challenging thinking.

The War Room
This one day of learning on "The War Room" will open your mind to a whole new way of thinking about how you think through any challenge or problem you face.

The Writing on the Wall
The 10 session program on "The Writing on the Wall" is all about understanding the nuances of English language to communicate.

A walk with CEO
This two day session on "A walk with CEO"
will help you search your Path to excel in Corporate!

Walk the Business Talk
Effectiveness in Communication is best witnessed in the business environment. This one day session on "Walk the Business Talk" will help you become a better professional each day.

The only 20 minutes
that mean everything
Coaching can also help bring underperformers' work up to standard. This training will explain the difference between coaching and mentoring and outline the basics of both.

Tell me something
about you
This 2 day program on "Tell me something about you" is all about learning the interviewing skill


Conversing to Influence
One day session on "Conversing to Influence" will help you how you put your case across and the perception you create can have an immediate impact on the outcome.

Tick Tock & Running
the Clock
In this 1 day session on "Tick Tock & Running the Clock" participants will learn how to delegate increase work effectiveness and productivity, achieve greater control of their daily activities and overcome stress.

Give to Get
What You Want
One day session on "Give to Get What You Want" will help participants in building confidence when negotiating with both internal and external clients.
Next Steps...
Talk to us to find out how our Facilitator Led Programs can help create maximum impact and transform the performance of your organization.