Case Studies
Our work has impacted the learning objectives of
leading brands
An Induction Program for Godrej Industries Ltd.
A custom eLearning solution to help a business arm of leading Indian conglomerate in employee induction and onboarding process and Associated Companies
The Client
The Godrej Group, established in 1897, is a leading Indian conglomerate with revenue of US$ 4.1 billion. The organization, with over 20,000 strong employees has a presence in over 60 countries. Godrej operates across businesses such as consumer goods, real estate, information technology, appliances, agriculture, foods and much more..
The Requirement
Godrej is a diversified business group. One of the many Godrej's arms, Godrej Industries Ltd. and Associated Companies (GILAC) had a classroom induction program for employees. This program provided employees an overview of the organization and the business. GILAC approached SKILLDOM to provide them an eLearning solution that will help the employees with the induction process. This eLearning solution would not only provide a comprehensive overview of the business but would also be beneficial monetarily by saving on the training costs associated with classroom based training program.
The Challenge
Adhering to brand guidelines, it was a challenge to provide a rich learning experience considering the branding and colour guidelines.
Worked very closely with the SME to finalise the design/specific design guidelines
Detailed feedback incorporation
The Solution
  Customized to Business: The eLearning course was customized according to Godrej's brand guidelines and the requirements of the induction program.
  Activities and Interactive Templates: Various interactive templates and activities were developed for this course to provide learners an enriching learning experience. This included features such as timeline.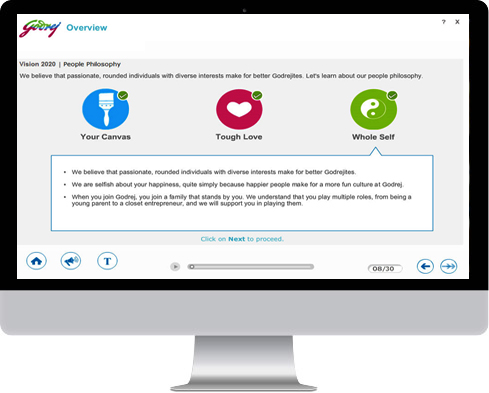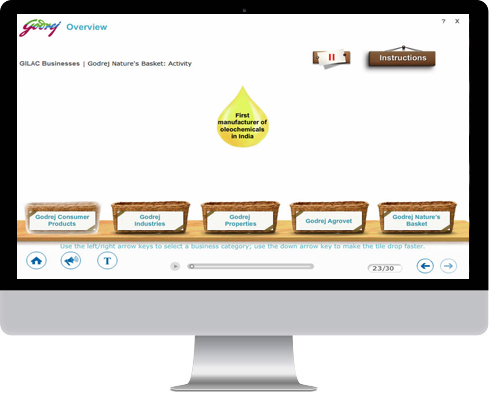 The Impact
The eLearning solutions major impact was:
  Business benefit in terms of classroom and human capital costs
  Easy and 24×7 availability of the induction program to the employees
  Overview of the Godrej Group businesses which are part of GILAC
Key Features
Custom Learning
Areas Covered