Case Studies
Our work has impacted the learning objectives of
leading brands
Highly Immersive Learning Module to Augment Customer Experience and Sales.
A highly successful custom eLearning solution having custom 3D visuals equips staff of a leading Australian footwear chain with sales and customer service skills.
The Client
A leading retail chain offering highly sought footwear brands to the customers across Australia. The company employing more than 1,500 employees operates 200 stores in a number of states. The progressive and forward thinking organization is renowned for offering quality footwear and apparel to the clients.
The Requirement
The company, which is known to constantly innovate and evolve, has a robust culture to provide the greatest shopping experience to the customers. Thanks to this culture, the company has a huge and loyal customer base. The company, which was on expansion spree, wanted to make sure that the same culture thrived on across new stores. This prompted the client to provide employees a targeted approach to augment and enrich the customer experience. The client was looking for an eLearning solution that would help thrive the culture and contribute to sales.
The Challenge
A critical input shared by the client was that the eLearning solution should not only adhere to the client's culture but also provide learners the highly immersive learning experience. The challenge was to:
  Understand client's customer service culture
  Analyze the business and the employees serving the customers
  Analyze the customer profile and the interactions that take place between customers and service staff
The Solution
  Immersive Learning: To provide learners a truly immersive learning experience, a virtual footwear store was created. This was developed with rich 3D graphics that simulated an actual store's indoor environment. 3D characters were developed after extensive research, which included the mascot and characters that represented employees and target customers..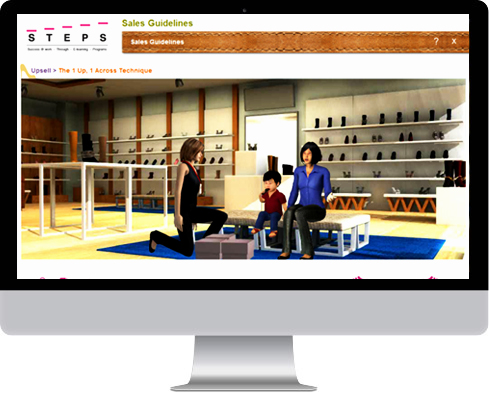 Interactive Scenarios: Scenarios were created that demonstrated learners the practices that enhanced customer experience. These scenarios mimicked many real-life situations such as customers walking into a store, employees helping them select the product and eventually seeing off the customers. The highlight of the scenario was the mascot that not only was part of the course but also interacted with learners before and after the scenario highlighting key values that ensured positive customer experience. All the scenarios were developed in 3D.
  Highly Customized Templates: In tune with the client's business, highly customized templates were created for this eLearning course. This included custom GUI elements, interactive templates and utilities.
  Posters: The client wanted to launch the course for the employees working across 200 outlets. Therefore, to spread the message effectively, posters were designed by SKILLDOM's design team.
The Impact
The impact was an eLearning module that not only engaged learners throughout the course but also helped identify key practices to enhance customer experience and improve sales. The benefits were:
  Employees that identified the client's culture of providing the greatest customer experience.
  Positive customer feedback and increased footfall that highlighted quality customer service
  Happy customers and increased sales
The custom eLearning solution provided by SKILLDOM was highly appreciated by the client. As the client's Project Manager said, "The learners had a great time taking this course. The eLearning solution provided by SKILLDOM has motivated our learners to learn more about our culture."
Key Features
Custom Learning

3D Visuals
Scenario-based Learning

Visually Rich
Areas Covered